Male Fashion of the 18th Century
---
Part One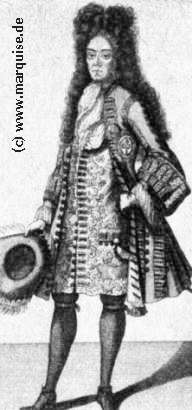 Prince Ligne by Schenck, 1690s
Let's start a bit before our time frame as the justaucorps suit was first used in the last decades of the 17th century.
During those early years, the justaucorps had narrow shoulders and sleeves, a relatively straight front edge and was very close to the torso - hence the name, which translates as "close to the body". The sleeve cuffs were huge, and there was no collar. The skirts were wide, but not excessively so, and often had buttons down the slits.
The waistcoat (gilet), which still had sleeves, was almost as long as the justaucorps and preferably worn closed. Both gilet and justaucorps had buttons all the way from neck to hem, the buttonholes strongly emphasised by braiding and embroidery. However, only few of the buttonholes really worked; either garment was closed only across the belly.
Above the closed buttons appears the cravat - of lace or lawn -, often worn in the Steinkirk or Steenkerke fashion, i.e. loosely twisted with the ends stuffed into the gilet. The shirt is invisible save for the lace frills at the wrist.
Stockings were usually pulled over the hem of the breeches; shoes had square toes, high heels, high front flaps and small, functional buckles. The most typical feature of male late 17th century fashion, however, is no doubt the huge, curly wig known as allonge which didn't just hang down half of the back, but also rose over the face.
Content, layout and images of this page 
and any sub-page of the domains marquise.de, contouche.de, 
lumieres.de, manteau.de and costumebase.org are copyright (c) 1997-2019 by Alexa Bender. All rights
reserved. See Copyright Page.




This work is licensed under a Creative Commons License.